Apabila kalian sedang mencari lokasi untuk rileks dan segar kembali disekitar Tokyo, Healing Planetarium bisa jadi menjadi pilihan sempurna yang perlu dipertimbangkan. Ada tiga planetarium yang dihidupkan kembali sebagai healing planetarium yang menyediakan pengalaman untuk melihat bintang-bintang ditemani dengan pemandangan yang indah, suara yang merelaksasikan, dan aroma yang menenangkan. Selain menyediakan pengalaman melihat langit dan bintang-bintang, planetarium ini juga dapat mempertontonkan berbagai macam pemandangan alam yang berbeda-beda.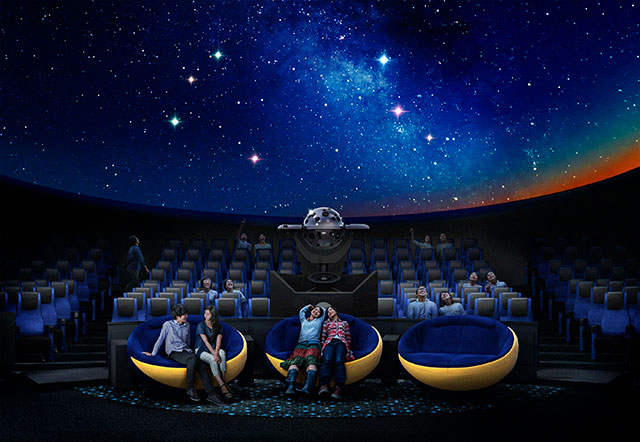 Untuk planetarium sendiri, pasti sudah banyak yang tahu dan memahami arti dari kata tersebut. Tetapi, bagaimana dengan healing planetarium? Bagi yang belum tahu, healing planetarium ini adalah sebuah planetarium yang memberikan pengalaman dan atmosfer lebih dalam mengamati galaksi atau pemandangan alam dengan tambahan backsound dan juga aroma yang dapat membuat raga yang penat menjadi segar kembali.
Healing planetarium ini bisa memperlihatkan pemandangan langit yang luas hingga pemandangan alam seperti sebuah pulau ditengah laut atau suasana dibawah laut. Dengan diiringi oleh narasi yang menyejukkan dan musik yang menenangkan, stres kalian akan hilang. Ditambah lagi, ada juga yang menyediakan tempat duduk spesial dimana kalian dapat rebahan sambil memandang langit tanpa ada hal lain yang mengganggu.
Planetaria Tokyo, Yurakucho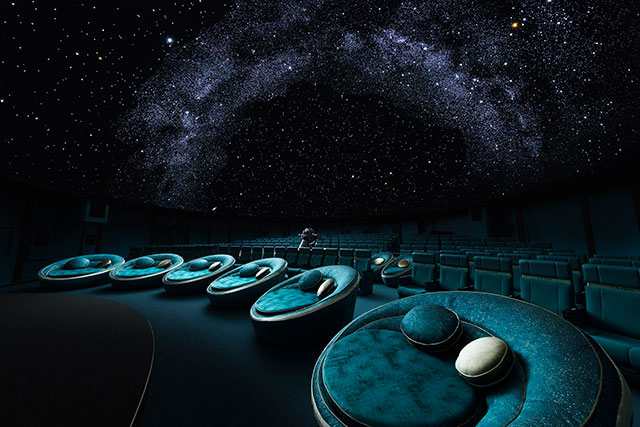 Nikmati pengalaman langit berbintang yang indah di jantung Kota Tokyo. Planetaria Tokyo, yang dibuka pada tahun 2018 lalu ini menyediakan pengalaman healing planetarium yang bisa dinikmati. Disini kalian bisa melihat pemandangan langit malam yang indah dan keajaiban dimana seolah-olah kalian sedang berada di pulau Aogashima dan menikmati "The Milky Way, Island Healing", yang sedang dipertontonkan saat ini. Fasilitas ini juga menyediakan fitur 3D audio dimana pengunjung akan menikmati suara-suara angin, ombak, dan kota secara sangat realistis.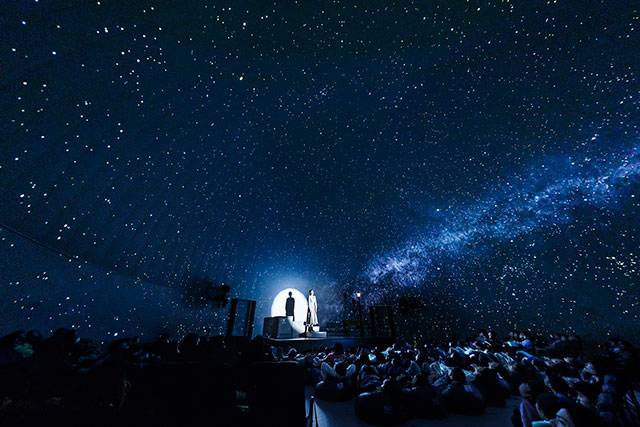 Pengunjung juga dapat menikmati pelayanan premium "Ginga Seat (Kursi Galaksi)" dengan harga 4.600 yen (618 ribu rupiah) untuk dua orang. Dengan pelayanan premium ini, pengunjung akan mendapatkan kenyamanan dan pengalaman yang tidak ada duanya dengan ditemani kain Nishijin yang dibuat dengan benang perak dan juga benang emas. Bagi yang sudah cukup umur bisa juga menikmati Live SCT Planetaria, yang juga menyediakan minuman dan makanan ringan yang bisa dipesan di Bar Planetaria dan Cafe Planetaria. Untuk yang menyukai aroma dari pengharum yang digunakan selama pertunjukan, kalian juga dapat membeli pengharumnya disini.
Planetaria Tokyo
Alamat : 9th floor of Yurakucho Mullion, 2-5-1 Yurakucho, Chiyoda-ku, Tokyo
Tenku, Tokyo Skytree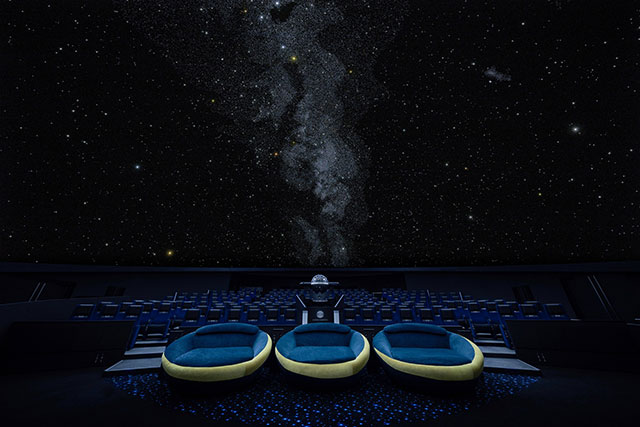 Apabila kalian sedang mencari lokasi untuk merelaksasikan badan kalian setelah berkelana berkeliling Asakusa, jangan lupa mampir di Tenku yang ada di Tokyo Skytree. Tataplah keindahan langit malam serta bintang-bintang cerahnya atau nikmati keindahan suasana dibawah laut dan pemandangan alam yang indah dimana tidak ada satupun manusia yang mengganggu.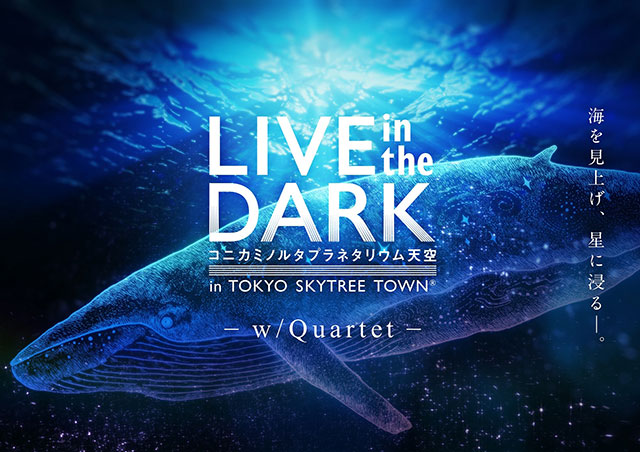 Untuk pengalaman spesial, bisa juga untuk mencoba "Mikazuki Seats (Kursi Bulan Sabit)" dengan harga 4.400 yen (590 ribu rupiah) untuk dua orang dimana pengunjung akan dapat menikmati pemandangan sambil rebahan.
Tenku
Alamat : SKYTREE TOWN East Yard 7F, 1-1-2 Oshiage, Sumida-ku, Tokyo
Manten, Ikebukuro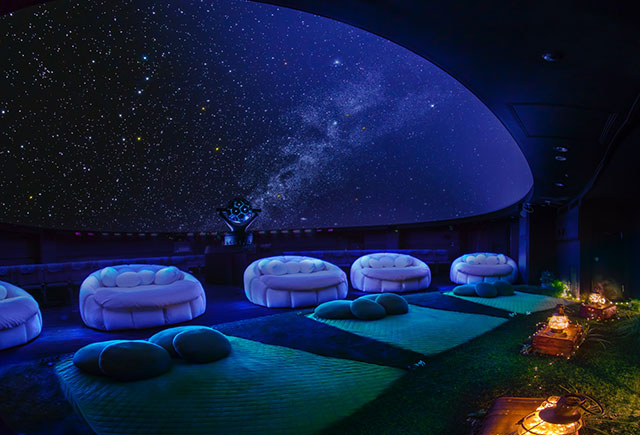 Apabila kalian sedang berada di Ikebukuro, Manten Planetarium yang berada di Sunshine City adalah lokasi yang akan kalian cari. Disini sudah disediakan pemandangan indah yang diciptakan oleh enam proyektor laser mereka yang sudah diupgrade sejak Juni 2018 lalu. Tema penayangan juga beragam, seperti "Milky Way & The Moon" dimana pengunjung dapat menikmati keindahan dua pemandangan langit ini ditemani dengan alunan suara Aimer dan juga musik ciptaan Haruka Nakamura. Pilih "Yuki Seat (Kursi Salju)" seharga 3.800 yen (510 ribu rupiah) apabila kalian ingin merasa seperti sedang berada di awan.
Manten
Alamat : Sunshine City World Import Mart Bldg. Rooftop, 3-1-3 Higashi-ikebukuro, Toshima-ku, Tokyo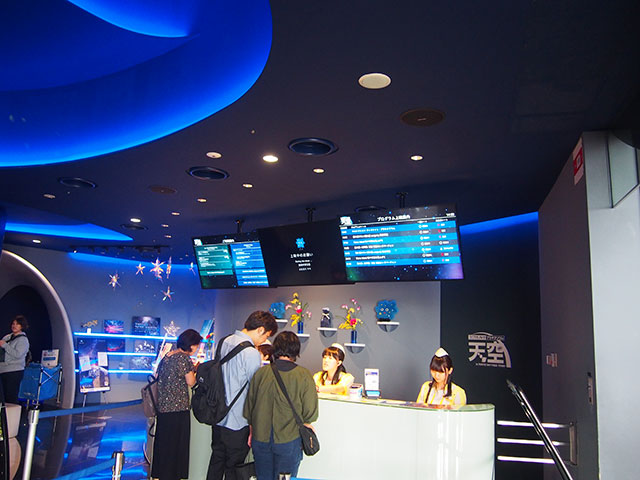 Apabila kalian ingin merasakan pengalaman healing planetarium di Tokyo ini, konfirmasi dulu jadwal dan tema dari pemandangan yang sedang ditayangkan. Karena jadwal penayangan berbeda-beda dan setiap orang memiliki selera tontonan yang berbeda-beda. Harga tiket juga dapat berubah tergantung dari pemandangan yang sedang ditayangkan dan kualitas kursi yang dipilih, jadi rencanakan baik-baik sebelum berkunjung, ya!
source and all images : japantravel
The post Healing Planetarium, Tempat Rileks di Pusat Tokyo yang Padat! appeared first on Japanese Station.