Monkey D. Luffy, Roronoa Zoro, Sanji, Nami, Usopp, Nico Robin, Tony Tony Chopper, Franky, Brook & Jinbe. Para kru Mugiwara Pirates ini siap beraksi dalam live action! Setelah kabarnya "hilang" ditelan waktu sejak pengumuman pertamanya pada tahun 2017 lalu, melalui akun Twitter terbaru milik One Piece Netflix, sang kreator Eichiro Oda sendiri mengumumkan memulai bahwa serial live action One Piece akan debutnya dengan jumlah 10 episode di Season 1.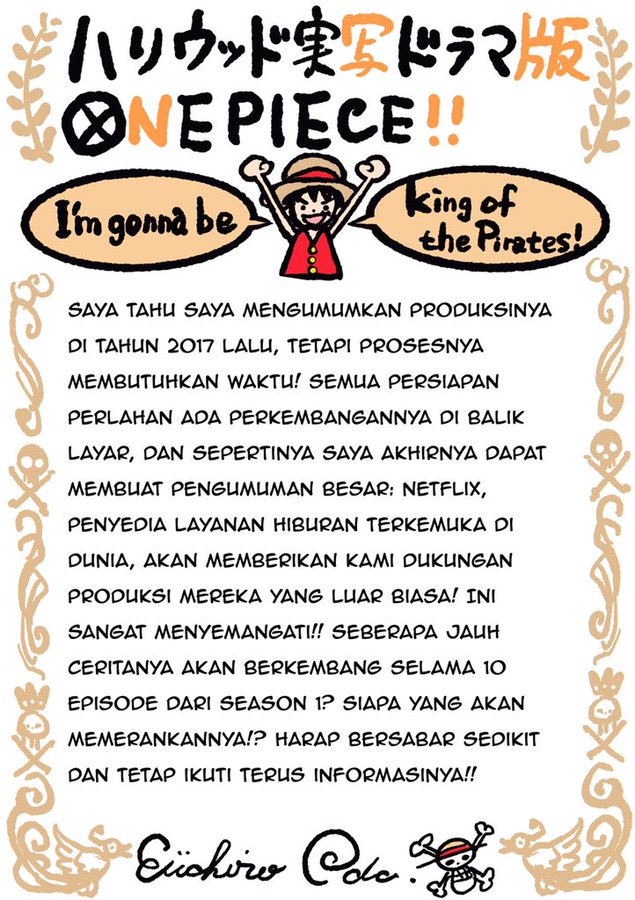 Sebagai salah satu adaptasi dari manga dan anime yang sangat dicintai oleh semua fansnya, pertanyaan terbesar adalah apakah serial One Piece yang akan diproduksi oleh Netflix ini akan memiliki cerita, gambaran karakter dan feel yang sama dengan series manga dan anime-nya. FYI, Oda-sensei akan menempati posisi sebagai Executive Producer di project ini, sedangkan naskahnya sendiri ditulis oleh Matt Owen (Agents of S.H.I.E.L.D., Luke Cage, The Defenders), juga berperan sebagai Executive Producer ada Steve Maeda (Lost), Marty Adelstein (Hanna film ver.) dan Becky Clements (Hanna series ver.).
Produksi adaptasi ini akan digarap oleh Tomorrow Studios yang juga menangani live action adaptasi dari Cowboy Bebop. Untuk waktu tayangnya, Netflix masih belum mengumumkan tanggal pasti dari series ini. Semoga saja kita bisa menikmati series ini secepatnya ya!
Sumber : soranews24.com
The post Serial Live Action "One Piece" Akan Tayang Di Netflix! appeared first on Japanese Station.