Bagaimana kalau saat berwisata nanti, kalian mengunjungi Starbucks Jepang di mana kamu tidak hanya ngopi tapi juga bisa menikmati pemandangan indah? Di setiap wilayah di Jepang, ada sejumlah cabang franchise kopi ini yang dikelilingi oleh pemandangan luar biasa. Artikel ini akan memperkenalkan lima cabang Starbucks Jepang yang menawarkan pemandangan indah yang pasti ingin kalian kunjungi setidaknya sekali. Ketika kalian membayangkan tentang lautan luas, tanaman hijau yang asri, serta atmosfer pemandangan yang menyejukan di jalanan, kalian akan dapat memenuhi keinginan tersebut dengan mampir ke tempat ini.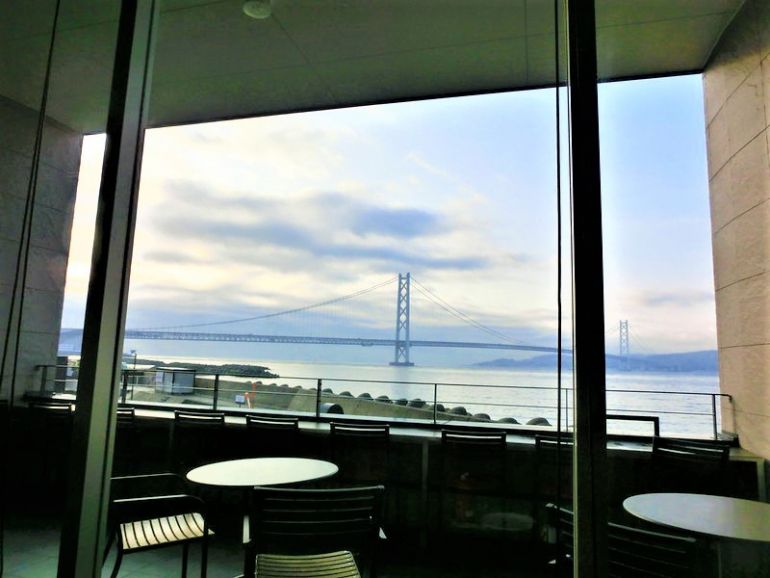 Hakodate Bayside Branch (Hokkaido)
Hakodate adalah kota wisata utama di Hokkaido. Ketika orang-orang Jepang berpikir tentang Hakodate, pikiran mereka mungkin tertuju pada sejarah terkenal Goryakugo dan pemandangan indah yang ditawarkan oleh Gunung Hakodate. Jika kalian berada di area tersebut, maka kalian sebaiknya mampir ke Starbucks Hakodate Bayside Branch, yang menghadap ke seberang area teluk. Pemandangan indah laut dan Gunung Hakodate terhampar di depan mata kamu. Dengan lebih dari 110 kursi yang tersedia dan interior yang luas, sangat cocok untuk bersantai. Ada juga berbagai gelas dengan desain berdasarkan area lokal, jadi pastikan untuk membelinya sebagai souvenir perjalanan kalian.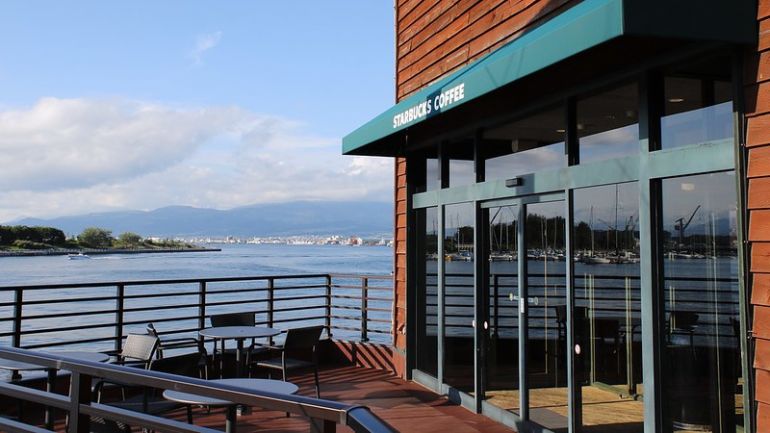 Akses Hakodate Bayside Branch: Sekitar 20 menit berjalan kaki dari Stasiun Hakodate di Jalur JR Hakodate
Toyama Kansui Park Branch (Toyama)
Toyama terkenal sebagai rumah dari sejumlah tempat wisata alam paling indah di Jepang. Sejumlah pemandangan disini mendapat apresiasi kelas dunia, seperti Desa Ainokura dan Suganuma Gassho-Zukuri, yang merupakan Situs Warisan Dunia, serta Kereta Api Kurobe Gorge yang melintasi lembah-lembah yang indah. Di antara pemandangan indah ini, cabang Starbucks Taman Kansui terletak begitu menarik sehingga banyak orang menyebutnya "Starbucks paling indah di dunia". Melalui dinding kaca toko, kalian dapat melihat kehijauan Taman Toyama Kansui yang menakjubkan dan sungai yang mengalir perlahan disana. Mengapa tidak menghabiskan waktu bercengkerama dengan alam sambil bersantai di ruang yang luas dan lapang ini?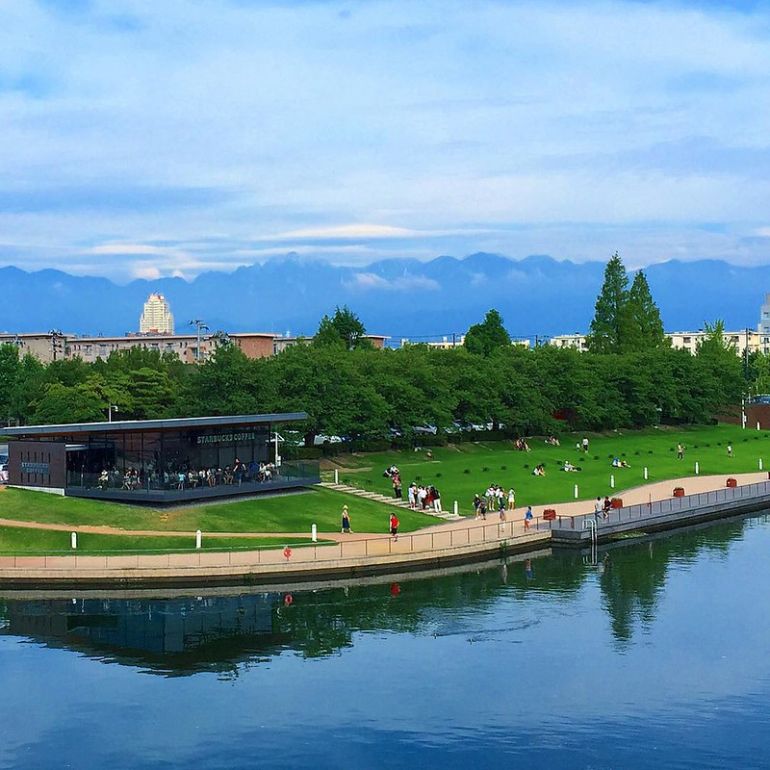 Akses Toyama Kansui Park Branch: Sekitar 15 menit berjalan kaki dari Stasiun Toyama di Jalur Utama JR Takayama atau Jalur Utama JR Hokuriku
Kobe Nishi-Maiko Branch (Hyogo)
Kobe terkenal sebagai kota pelabuhan. Sejarah hubungan diplomatiknya dengan tempat-tempat di luar Jepang telah memberikan kesan eksotis pada jalanannya hingga hari ini. Jika kalian ingin menikmati pemandangan yang hanya dapat kalian temukan di kota pelabuhan, maka kalian harus melakukan perjalanan ke cabang Starbucks Kobe Nishi-maiko. Dari sini kalian dapat memandangi jembatan gantung terpanjang di dunia, Jembatan Akashi-Kaikyo, yang membentang melintasi Selat Akashi. Air yang berkilauan di laut yang indah dan deburan ombak yang lembut juga merupakan pemandangan yang indah untuk dilihat.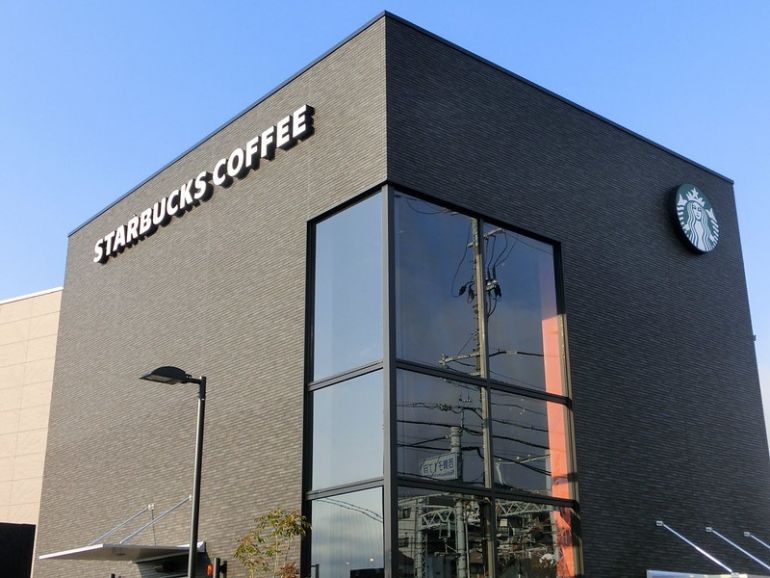 Akses Kobe Nishi-Maiko Branch: Sekitar 5 menit berjalan kaki dari Stasiun Nishi-Maiko di Jalur Kereta Listrik Sanyo
Fukuoka Ohori Park Branch (Fukuoka)
Fukuoka terkenal sebagai kiblat budaya makanan. Ini adalah rumah bagi banyak makanan lezat lokal seperti Hakata Ramen dan Motsu Nabe (hot pot yang dibuat dengan jeroan). Setelah kenyang dengan makanan lokal yang lezat, bagaimana dengan pergi ke Starbucks cabang Fukuoka Ohori Park dan menikmati keindahan alam dengan secangkir kopi di tangan? Cabang ini terletak di Fukuoka Ohori Park yang luas dan dikelilingi oleh tanaman hijau yang berlimpah. Tempat ini juga sangat populer sebagai jalur jalan kaki, dengan suasana santai yang menyebar di seluruh taman. Bagian dalam cabang ini bermandikan cahaya alami yang menenangkan jiwa.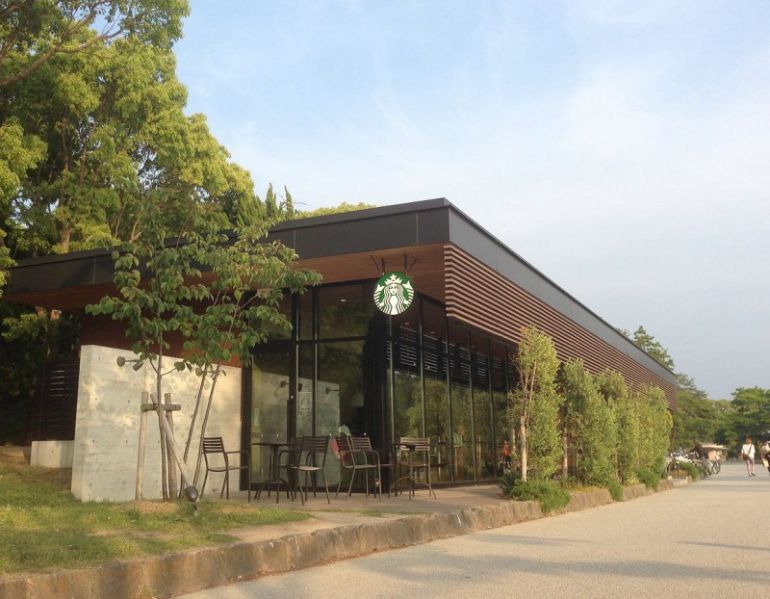 Akses Fukuoka Ohori Park Branch: Sekitar 5 menit berjalan kaki dari Pintu Keluar 3 dari Stasiun Ohori-Koen di Jalur Kuko, Kereta Bawah Tanah Kota Fukuoka
Kyoto Sanjo Ohashi Branch (Kyoto)
Kyoto penuh dengan bangunan bersejarah dan jalanan yang sama bersejarahnya. Di Area Sanjo Kyoto, kalian akan menemukan cabang Starbucks Kyoto Sanjo Ohashi, yang menggabungkan beberapa elemen budaya kota yang unik. Misalnya, di cabang ini kalian dapat melihat simbol terkenal musim panas Kyoto, Noryo Yuka. Noryo Yuka adalah geladak tempat duduk yang ditempatkan di atas sungai atau di mana kalian dapat dengan jelas melihat sungai. Disini kalian dapat merasakan kehangatan kopi yang disajikan. Sungai Kamo mengalir di depan Cabang Kyoto Sanjo Ohashi, sehingga kalian dapat menikmati suara lembut angin dan sungai saat menerima semua yang ditawarkan Kyoto.
* The Noryo Yuka buka dari Mei hingga September.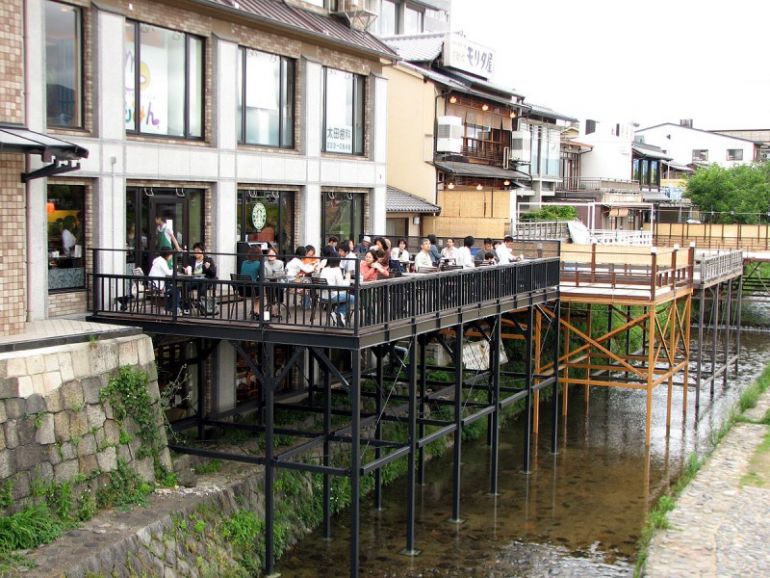 Akses Kyoto Sanjo Ohashi Branch: Berjalan kaki 2 menit dari Pintu Keluar 7 Stasiun Sanjo di Keihan Oto Line dan Keihan Main Line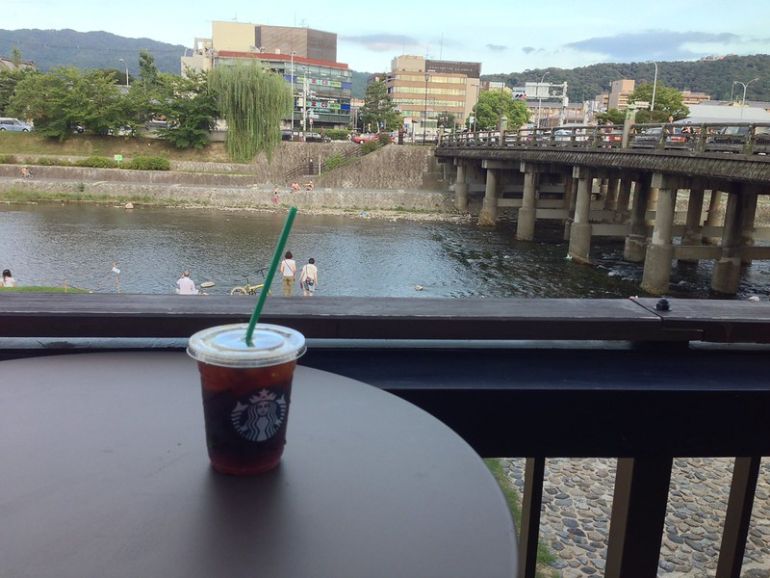 Jadi mengapa tidak menenangkan pikiran kalian sambil memandangi pemandangan yang menakjubkan dengan kopi Starbuck Jepang di tangan?
The post 5 Starbucks Jepang Ini Memiliki Pemandangan yang Luar Biasa! appeared first on Japanese Station.