Tahukah kamu bahwa kita dapat menemukan restoran vegan siap saji yang juga memiliki menu timur tengah, falafel otentik di Tokyo? Di restoran Falafel Brothers mereka menyajikan cemilan ini dengan nyaman bagi semua orang dengan menu vegan yang lezat dan beraroma. Dari dekorasi penuh warna yang menarik perhatian, hingga hidangan sehat juga mengenyangkan, hidangan di Falafel Brothers menyegarkan dan memuaskan.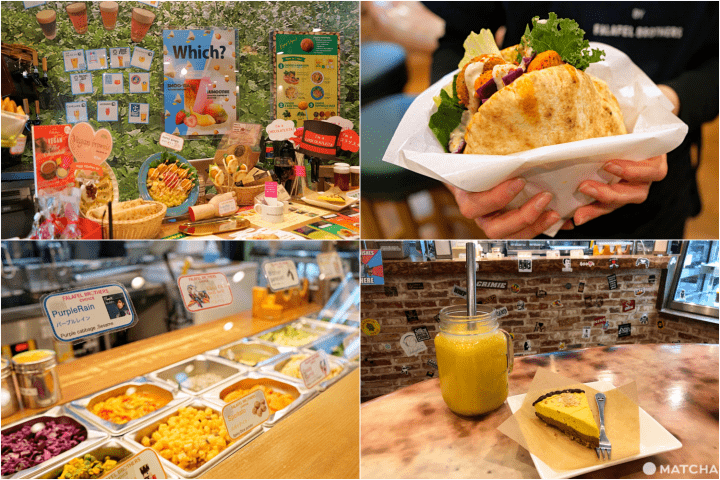 Falafel Brothers, Cabang Shibuya PARCO – Membuat Makanan Vegan Segar dan Menyenangkan
Falafel Brothers memulai bisnisnya pada tahun 2017 ketika para pemilik memutuskan untuk membuat dan menjual falafel tradisional di Tokyo. Terbuat dari rempah-rempah dan buncis, falafel sendiri adalah makanan vegan, dan pemilik Falafel Brothers, Amnon dan Daisuke, ingin makanan tersebut tetap menjadi produk nabati yang ramah vegan, sambil memasak sesuatu yang akan memuaskan semua pengunjung, baik vegan ataupun tidak. Toko pertama di Roppongi sukses besar, hingga mengarah ke ekspansi.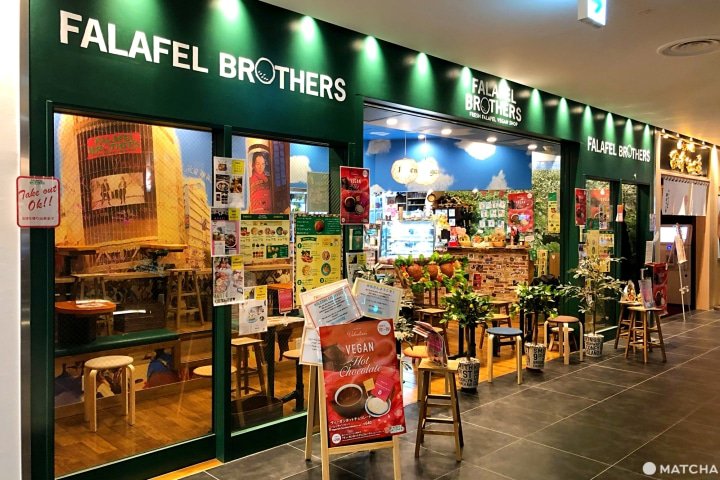 Meskipun falafel dan masakan Timur Tengah tradisional masih jarang di Tokyo, falafel menjadi lebih populer. Falafel Brothers ditampilkan di berbagai majalah dan publikasi di Jepang. Para pemiliknya tetap sibuk dan bersemangat, memperluas menu dan restoran untuk memungkinkan lebih banyak orang mencicipi falafel lezat.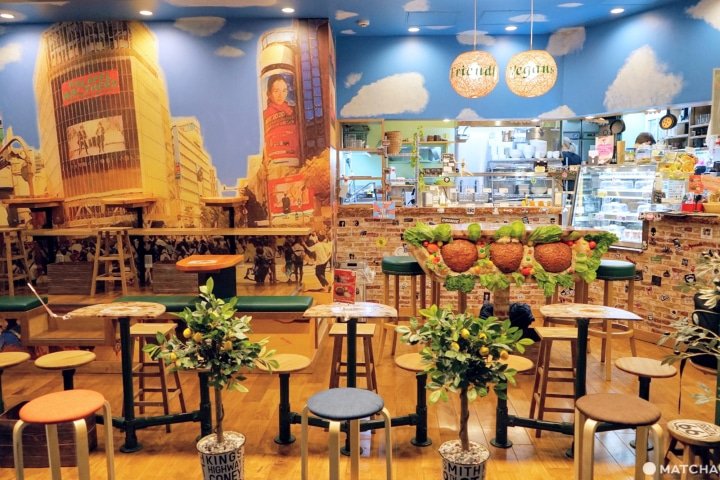 Falafel Brothers saat ini memiliki tiga lokasi di Tokyo: Shibuya, Roppongi, dan Ebisu. Cabang Shibuya dibuka pada akhir 2019, dan terletak di dalam Shibuya PARCO, pusat perbelanjaan besar dengan department store, tempat makan, dan fasilitas hiburan. Silahkan naik ke lantai tujuh untuk sampai ke Falafel Brothers, restoran ini sulit dilewatkan karena tampilan warna-warna yang funky, cerah, dan motif falafel yang lucu. Sebagian besar interior funky restoran ini buatan tangan oleh pemiliknya, termasuk meja pita falafel satu-satunya.
Memesan di Falafel Brothers
Falafel Brothers di Shibuya memiliki menu besar yang menampilkan falafel di semua jenis hidangan, mulai dari roti pita hingga mangkuk salad. Selain terdapat menu dalam Bahasa Inggris, disini semua karyawan bisa berbahasa Inggris.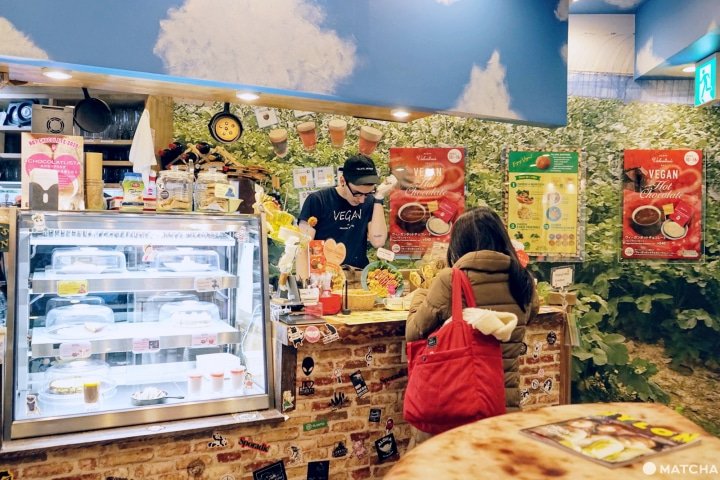 Falafel juga menyajikan lauk pauk seperti gyoza vegan dan makanan penutup, seperti kue vegan mentah berwarna-warni dan minuman, termasuk craft beer dan smoothie hummus.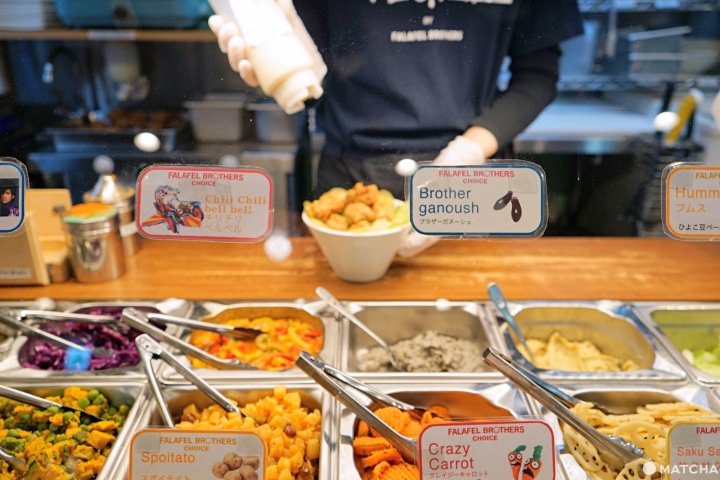 Setelah memutuskan hidangan utama, kalian bisa menentukan isian di dalamnya: misalkan selada, bayam, dan kangkung untuk sayuran dasar, dua topping, dan saus. Topping disini diberi nama yang lucu loh, dan termasuk tambahan seperti wortel acar, kol ungu, dan baba ganoush (pasta terong). Saus Tahini tersedia dalam beberapa variasi, bahkan dalam versi pedas.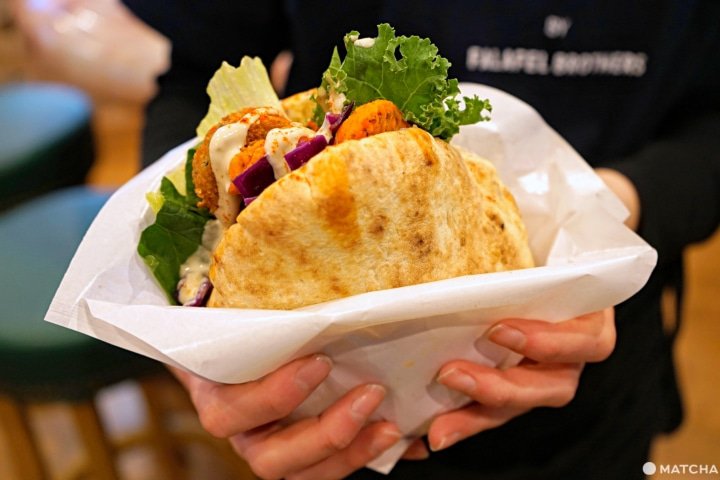 Digambarkan di atas adalah Falafel Brothers' Sandwich (1.050 yen untuk ukuran penuh) dengan kale, kubis ungu dan wortel, serta saus Tahini pedas. Dibuat segar dan sesuai pesanan, perpaduan rasa dari roti pita lembut, saus, falafel renyah, dan sayuran segar terasa sangat memuaskan. Saus pedas Tahini tidak dibumbui terlalu banyak, dan menambahkan sedikit panas pada sandwich. Siapa pun yang mendambakan falafel akan sangat gembira dengan pilihan sehat dan enak ini.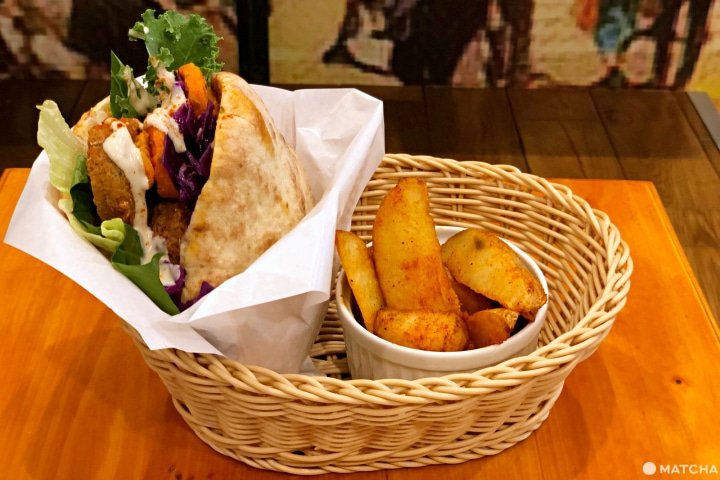 Bagi mereka yang merasa sangat lapar, Falafel Brothers menawarkan paket hemat dengan tambahan minuman pilihan kalian dan kentang goreng Perancis, keripik akar teratai, atau sup (1.450 yen untuk ukuran penuh). Kentang goreng pada gambar di atas memiliki rasa pedas dan asin dalam takaran yang pas.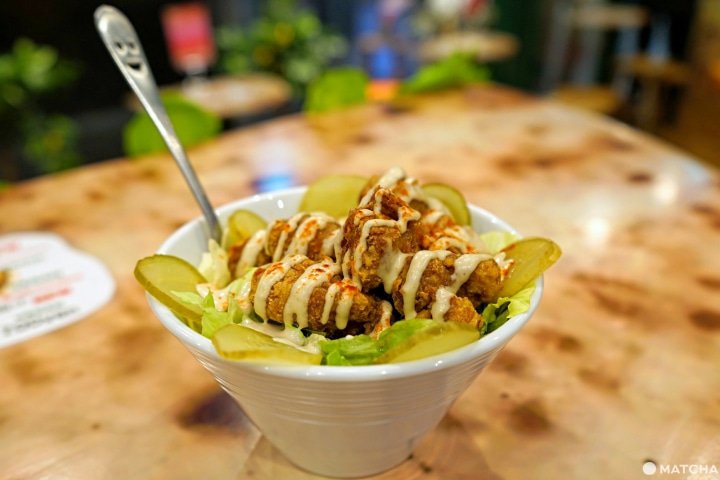 Makanan pendamping seperti karaage daging kedelai, vegan gyoza, atau hummus plate menjadi tambahan yang lezat untuk mereka yang datang bersama teman atau keluarga. Foto di atas adalah karaage daging kedelai (700 yen) yang juicy dan beraroma, disajikan di atas selada dengan saus Tahini.
Cobalah Minuman Hummus dan Makanan Penutup Vegan Mentah
Berbagai minuman ringan dan craft beer tersedia untuk pelanggan, serta sesuatu yang tidak akan kalian temukan di tempat lain: Humoothie, atau smoothie hummus (700 yen). Dicampur dengan jus buah manis, kandungan hummus membuat smoothie menjadi sangat lembut. Saking lembutnya kalian tidak akan menyangka bahwa ini berasal dari sayuran. Sedotan yang digunakan pada semua minuman adalah logam, menunjukkan bahwa restoran ini memiliki kepedulian pada lingkungan.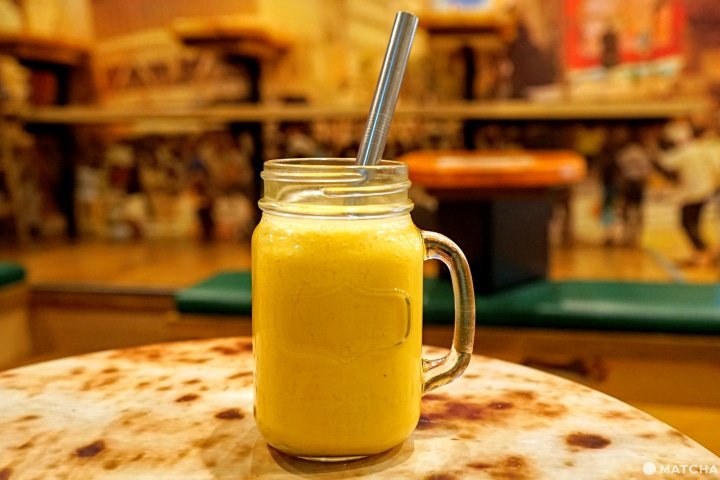 Untuk makanan penutup, tersedia berbagai pilihan kue vegan mentah yang sempurna. Gambar di bawah adalah kue Fantastic Choco Turmeric (550 yen), yang mendapat warna kuning cerah dari kunyit. Tidak terlalu manis dan memiliki tekstur krim, dengan taburan kacang renyah. Ada juga beberapa pilihan kue lainnya untuk dinikmati.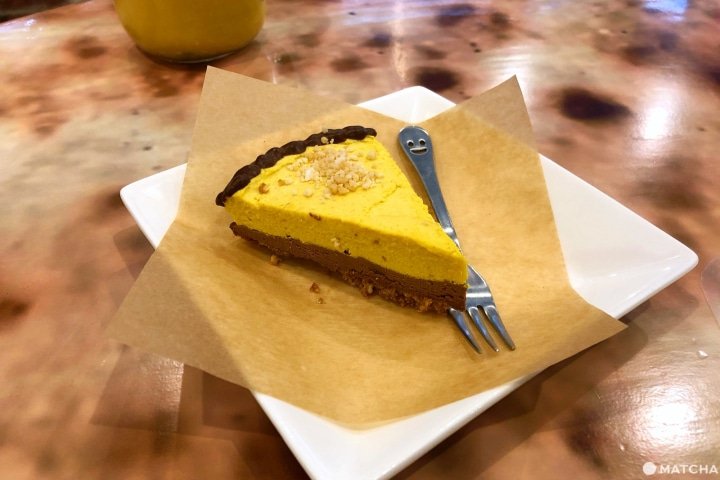 Falafel Brothers di Shibuya PARCO merupakan restoran vegan siap saji yang menyajikan berbagai macam hidangan lezat serta beberapa menu musiman. Dengan lingkungan yang ramah dan begitu banyak pilihan, setiap hidangan di sini begitu menyenangkan dan terasa baru.
Falafel Brothers Shops di Roppongi and Ebisu
Falafel Brothers saat ini memiliki dua restoran lain di Tokyo: Roppongi dan Ebisu. Setiap cabang memiliki item menu tertentu yang berbeda dan konsep restoran orisinil, namun yang pasti semuanya menawarkan falafel berkualitas tinggi yang sama dan pengalaman bersantap yang nyaman.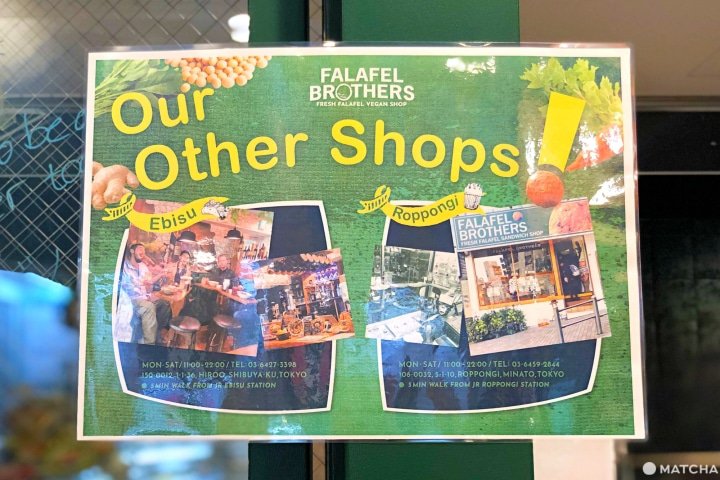 Lokasi cabang Roppongi berjarak 3 menit dengan berjalan kaki dari Stasiun Roppongi (jalur Hibiya dan Oedo). Ada beberapa kursi meja dan bangku disediakan di sekitar counter tempat pengunjung dapat makan, tetapi memesan makanan untuk dibawa pulang juga memungkinkan. Untuk cabang Ebisu yang lebih luas, berjarak 5 menit berjalan kaki dari Stasiun JR Ebisu. Pengunjung dapat menikmati makan siang pada hari Minggu untuk mencoba menu khusus Ebisu lainnya. Kalian dapat melakukan take out order di semua restoran dan juga UberEats untuk beberapa bagian Tokyo.
Falafel otentik di Tokyo untuk Semua Orang!
Makanan otentik dan lingkungan yang hangat dan ramah di Restoran Vegan siap saji Falafel Brothers Tokyo membuatnya wajib dikunjungi untuk hidangan yang nyaman di Shibuya, Roppongi, dan Ebisu. Mampirlah ke salah satu lokasi mereka untuk falafel vegan lezat yang mungkin akan menjadi makanan favorit kalian.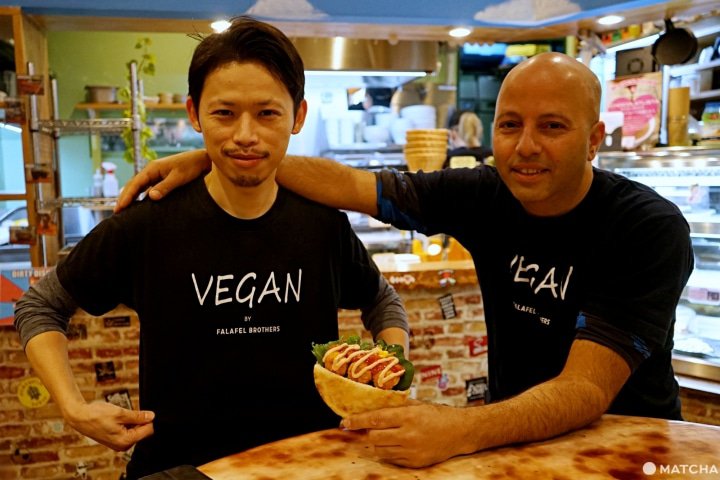 The post Restoran Vegan Siap Saji Falafel Brothers di Tokyo appeared first on Japanese Station.